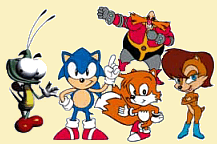 Birthday Parties at Sega World
Celebrate your birthday in the coolest possible way and spend the day at Sega World! Choose from our nine major attractions, play some of the latest amusement games and have a fab time!
Sega World Sydney can accommodate birthdays from 4 to 15 children from the ages of 5 to 15 years. They are held any time during opening hours every day of the year. To assist with planning for the party all bookings must be made at least one week in advance. Birthday Parties at Sega World include Unlimited use of the nine rides and over 100 arcade games. *
Birthday Package Prices
$30 per person includes Unlimited Fun Pass, Meal and Party
* (Ticket and prize machines are not included)
Please be advised that height restrictions apply to all rides inside Sega World. To ride on our major attractions, children must be a minimum of 90cms. Please note that children will need to be accompanied by an adult (on a rides pass) unless they are over 130cms. The restrictions vary from ride to ride so if you are not sure please ask one of our cast members.
We are pleased to offer complimentary admission to two parents/guardians. (Please note this does not include Rides).
What does the birthday party include?
A fun packed half hour birthday party
Unlimited use of Arcade Games*
Party Invitations and envelopes for you to send to each Guest
Party badges for all of the children
Special Birthday Badge and Gift for the birthday child
Sega World Birthday Cake
Lolly bag and Balloon for each Child
* (Ticket and prize machines are not included)
What about food for the party?
Your birthday party includes a meal of your choice. Please advise us of your menu choice when confirming the party, this ensures that the food is ready upon your arrival to the birthday room. You meal includes a choice of:
Cheese Pizza (*Pizzas only available on weekends and School Holidays.)
Hot Dog
Sonic Hamburger
Chicken Nuggets.
All include Small Fries and a Small Drink.
The drink is your choice of Coke, Diet Coke, Fanta, Sprite, Lift, Milo or Strawberry Nesquick Shake
How long will the party run on average?
The actual birthday party component of your visit to Sega World will commence promptly at your allocated booking time and will run for half an hour. However, you may choose to arrive earlier than your allocated birthday party time and have a few rides and games first.
The Unlimited Fun Pass is valid for the whole day so you may stay as long as you like but around three and a half -hours is recommended. That is, half an hour for the party and approximately three hours for the rides and games. Please keep in mind that during holidays and peak times you may be required to queue for some of the rides.
What do we do once we arrive?
It is recommended that the party group arrive 15 minutes prior to the booking time, to make allowances for latecomers and any last minute changes. Upon arrival, please go to the Bookings & Information booth, which is located to the left of the admissions gate under the cube entrance to the park. We will have your tickets and host ready to take you in to the park.
Due to demand for birthday parties your party will be postponed to another time or date should you arrive more than 15 minutes late. Every effort will be made to accommodate a change in the party time for later that day, or another day, however we cannot guarantee these changes.
What about bringing things to the party?
Lockers are available inside Sega World for storage at $2 each. You are welcome to bring your own food, however there are no heating or refrigeration facilities available.
Other Things
No candles for the cake
No swearing
No hitting, punching or fighting
No throwing food
No jumping on the tables or chairs or defacing Sega World property
No inhaling helium from the balloons
No smoking anywhere in the park
Please listen to your host and most importantly:
HAVE FUN
What happens when the birthday party is finished?
Five-minute parking is available at the front entrance to Sega World. Entry is from Harbour St, Sydney. The simplest way to arrange for your guests to pick up their children is at the Sega World Bookings & Information booth located on the left of the admission gates.
Unfortunately there is no paging system inside the park. To assist you and your guests, please ensure that you make prior arrangements concerning the time and place for your party to meet at the end of your time at Sega World
What are the payment and booking requirements?
Birthdays must be paid for 48 hours before the party. If you have not paid within this time your party will be considered cancelled. Payment can be made with cash, credit card, bank or company cheque only (unfortunately personal cheques cannot be accepted). Cancellation within 48 hours of your booking will incur a 50% cancellation fee.
Opening Hours*
Monday to Friday 11am – 10 pm
Weekends, NSW School & Public Holidays 10 am – 10pm
*Please note that Opening Hours are subject to change without notice.
What if I have other questions?
If you would like further information or have other questions, please call our Birthday Co-ordinator at Sega World on (02) 9273 9143.