..Current News.....
- Crush Dance Parties are back in 1999, offering even more than before. Next Crush - 1st May 1999.
- Check out our Virtual Tour of Segaworld. Here you can see 360 degree images inside the largest indoor theme park, in LivePicture format.
- Sega World has entertainment every day of the school holidays and weekends. Click here to see what's happening.
- Has your school class been on the Education tour of Segaworld? Click here for more details.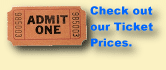 Having a Birthday? Click here to find out how you can celebrate your Birthday at Sega World



Click here to discover all of Sega World's attractions and rides.




Sega World offers the latest in presentation and conference facilities to knock the socks of your prospective clients and business associates. Click here for more details on hosting your corporate event at Sega World