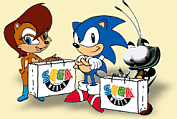 Welcome to the Sega World Australia
On-Line Store
Inside you will find hundreds of items unique to Sega World and its many attractions.

It's easy and fun to shop with Sega World on the Net. By clicking on the buttons down the left side of your screen, you can access your selections be it Clothes, Stationary, Toys or Gifts Sega World has something for everybody.

In order to purchase products from this site it is important that your browser is able to recognise Javascript. Most browsers now support Javascript, including Netscape Communicator and Microsoft Internet Explorer 4.0. We advise downloading either of these free programs so that you can receive the full benefits of our site. This site does not use encryption for credit card deatils, if you are concerned read our disclaimer before ordering.
How to Purchase
To purchase an item from the Sega World On-line store is easy and as simple as a mouse click.

If its clothes you are looking for then simply just select the size required, this is identified by the underlined coloured text, click on the size and the item will be added to your shopping trolley.

When shopping for toys, stationary or gifts just click on the order button beside the item you wish to purchase and it will be automatically added to your shopping trolley. Easy isn't it!

When you have completed shopping the Sega World On-line store you may order your products by clicking on the "View Shopping Trolley" Image located directly under Sonics foot on the left side of the page. This will tell you exactly what items you have selected, the price of each individual item, and how many things you currently have in your trolley.

After reviewing your selections hit the "Order Items" button and you will be taken to Order page where you will have to complete a form detailing your name, e-mail address, street address, phone number and credit card details. All of the form fields must be completed so that we can process the order immediately.

Please allow 14 days for delivery.
Currency
All transactions are calculated in Australian Dollars (AUD$).
Credit Cards
Sega World currently accepts VISA, MasterCard, Bankcard and American Express.
Postage
Postage is calculated at a flat rate both locally and internationally regardless of how many items you order.
Items ordered for delivery inside Australia carry a flat fee of $5.00
Items ordered for delivery outside Australia carry a flat fee of $10.00